Tree Pruning & Trimming in Vancouver, WA
Cascade Tree Works is your resource for Tree Pruning in the Vancouver Metro Area.
Cascade Tree Works is your Vancouver Tree Pruning and Tree Trimming Specialist. With our ISA certified arborists, we can prune your trees properly and provide a tree maintenance plan that will help your Washington trees flourish for years to come. We offer tree pruning for both residential and commercial properties. Contact us today at (360) 718-7108 or Request a Free Quote online.
The Best in Tree Maintenance
Pruning is the most common type of tree maintenance in any landscaped property. Proper tree trimming techniques can both repair damage and preserve tree health for years to come. Improper techniques may shorten the life of the tree or cause lasting injury. That is why it is vital to hire an ISA certified arborist to evaluate and trim the trees around your home or building.
The key to well-maintained and healthy trees is consistent and appropriate pruning techniques performed at the right time of year. Saplings up to ancient growths can benefit from tree trimming. Young trees will profit significantly from the structure that early pruning provides while older trees can be revitalized with expert tree trimming.
Along with appropriate pruning, tree health can benefit from a number of maintenance actions including:
Planting the best tree for the area and soil
Consistent watering
Providing mulch and fertilizer
Tree trimming during the right time of year
Annual examination for rot, wilt, wood-boring insects, and more
Cascade Tree Works offers comprehensive residential and commercial tree trimming services for the Greater Vancouver, WA areas including Vancouver, Battle Ground, Salmon Creek, Woodland, and LaCenter. Contact us today to schedule your next tree care service with our arborist.
Reasons for Pruning
Cascade Tree Works is your resource for Tree Trimming Services in the Vancouver Metro Area.
The most common reasons for pruning are maintenance and safety. Tree trimming can be performed to remove dead branches, support proper growth, reduce risk to surrounding buildings, and improve landscaping. Additionally, regular pruning can improve the longevity and health of a tree and support healthy tree growth.
Some trees – like fruit trees – can be shaped through pruning to ensure easy access for fruit picking. Others need to be shaped to accommodate power lines or other human-made obstacles. The type of pruning your trees will most benefit from will be determined after a careful and thoughtful assessment of your property and needs. Our tree trimming services are of the highest quality, and our ISA certified arborist is an expert at combining pruning techniques to obtain the best result.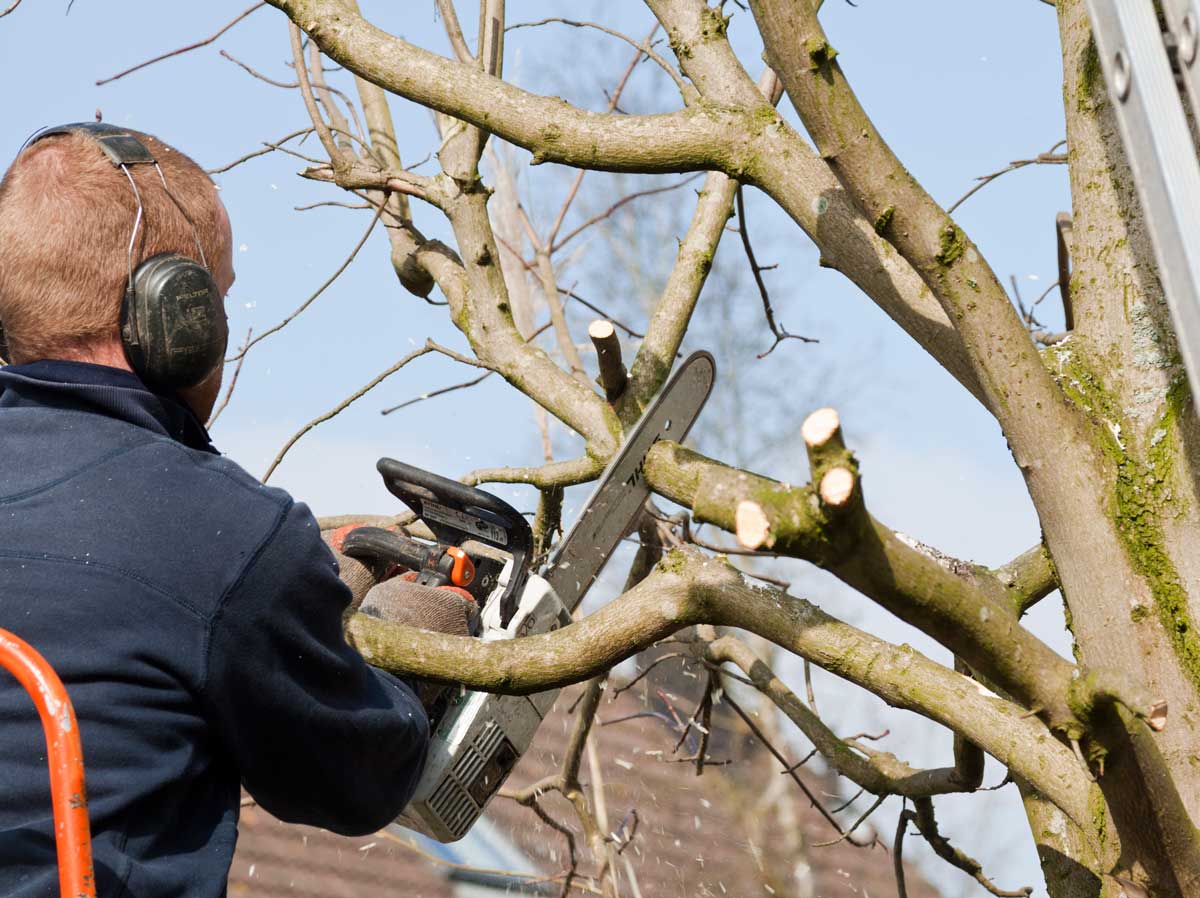 Pruning for Tree Maintenance
Properly trimming a tree ultimately helps the tree flourish as it grows. We remove dead, diseased, or rotted branches and allow the tree to put its energy into limbs that will thrive. Our certified arborists are trained to consider the health and wellbeing of the tree and to find ways to support the tree's healthy growth so that it remains stable and beautiful for years to come.
When pruning a tree, our first consideration is always safety. This takes shape in a few ways.
First, we remove any dead or dying branches that will likely fall and become a hazard.
Next, we look at how people interact with the tree. If the tree overhangs a walkway, is growing near a building, or has utilities nearby, we trim it to keep those objects and people around it safe.
Finally, we consider how the tree will grow to ensure it is appropriately shaped for continued safe development. This training or shaping of a tree early on can make it a beautiful – and safe – piece of your landscape for years to come.
On occasion, a homeowner will buy a property for the view and then discover that, over the years, trees have blocked the vista. This is where vista pruning comes in. We simply trim the trees that are blocking your view so that they remain healthy, but you can also enjoy the panorama once more.
Fruit trees have a very different pruning process than other trees. When we trim fruit trees, we want to support two things:
The ability to pick fruit easily
Fruit production
This extremely specialized type of pruning should be done by a professional to ensure you get the most out of every fruit tree on your property or in your orchard.
Contact Cascade Tree Works today to schedule an evaluation of the trees on your property. Our trained, ISA certified arborist will provide a plan and perform tree trimming services to shape your trees properly.
"Excellent from start to finish. The office staff is friendly, professional and corrected an error on my bill with a very pleasant demeanor. When Greg came out to give me an estimate he listened to my needs and then gave me a fair estimate for the work. The crew trimmed the trees and branches that were overhanging in my yard, my neighbor to the left of me and my neighbor to the right yards. The crew then cleaned all of our yards of debris. Amazing staff, courteous and professional. Have recommended to my yard maintenance guy and my next-door neighbor paid half the bill because she thoroughly liked the job as well. I have a bracing job that needs doing sometime next year and I will certainly call Cascade. Thank you."
Yvette W.
Types of Tree Pruning Services
Cascade Tree Works is your resource for Tree Trimming Services in the Vancouver Metro Area.
Cascade Tree Works specializes in the following pruning and trimming techniques:
Crown Raising
The removal of the lower branches of the tree. This is usually done to provide clearance for pedestrians, vehicles, and buildings. Crown raising may also allow more sunlight into a struggling lawn or garden.
Crown Clearing
The removal of unhealthy, dead or conflicting branches which may pose a hazard or lead to decay throughout the tree.
Crown Reduction
Slightly decreases the tree's height and/or width. This should only be applied to certain species and only under certain circumstances to maintain the health of the tree.
Crown Thinning
Selective removal of branches to reduce the density of the tree. This reduces both wind resistance and the weight of heavy limbs.
Restoration
Pruning to improve the structure and appearance of trees that may have been topped, improperly pruned, neglected, or damaged by weather.
Training Young Trees
Young trees are pruned to promote strong structure. Weak or unwanted growth patterns are removed to develop a strong and aesthetically pleasing form. When young trees are trained properly they will require less maintenance and overall cost in their maturity.
Fruit Tree Pruning
Properly pruning fruit trees encourages maximum fruit production. Fruit trees are often pruned to a desired height and shape for accessibility.
Espalier
Training a tree along a wall or a fence. It is used as a space-saving technique. This is usually done with fruit trees.
Vista Pruning
Selective thinning to provide a better view from a specific point.
Hazard Pruning
The removal of broken or dead branches greater than 2 inches in diameter. This is a service we offer when there is no room in the budget for tree care in spite of a hazard situation.
GET YOUR FREE QUOTE TODAY
When to Begin Tree Maintenance
While the best time to begin appropriate pruning, shaping, and training of a tree is as soon as it is planted, we recognize that most homeowners don't have this luxury. The trees on your property may have been growing there for years before you purchased it, or you may have planted trees long ago and would now like to understand the best maintenance actions.
If you see any of the below signs, it is time to contact Cascade Tree Works to consult our arborists and discover the best maintenance and pruning actions:
Your tree is a hazard to utilities or power lines
Tree limbs block pathways, driveways, or walkways
Branches overhang or touch your home
Your tree has dead or loose branches
Leaves are brown or discolored when they would normally be green
Your tree's bark appears pitted, cracked, or unusual
The tree is no longer pleasing to look at
There is fungus or other growths on your tree
Your tree has not been pruned in a couple of years
A diseased, distressed, or dangerous tree will benefit from appropriate maintenance. Call (360) 718-7108 to schedule a consultation with our arborist.
Local Vancouver Tree Trimming
The arborists at Cascade Tree Works specialize in Southwest Washington trees. We understand how the climate, soil, and other factors affect each tree and can appropriately prune your trees to better withstand the wind, rain, snow, and soil erosion common to the Pacific Northwest.
Your Trees Are In Safe Hands
GET A FREE TREE TRIMMING QUOTE
FROM A LOCAL VANCOUVER, WASHINGTON PRUNING COMPANY YOU CAN TRUST!
We offer emergency tree removal in Vancouver, Washington and surrounding cities including:
Battle Ground | Salmon Creek | Woodland | LaCenter
Camas | Washougal | Orchards | Minnehaha
And everywhere in-between!
YOUR SATISFACTION IS GUARANTEED
At Cascade Tree Works we believe in doing a great job, every time. That's why we stand behind our work. If you are not happy with our work, we will make it right. No worries. No hassles.
Call
(360) 718-7108
or