Fallen Tree Cutting in Vancouver, WA Serving Washougal, Battleground, and Surrounding Areas
Emergency Tree Removal in Vancouver, WA
Cascade Tree Works is your resource for Emergency Tree Removal in the Vancouver Metro Area.
We perform emergency fallen tree cutting and removal in Southwest Washington cities, from Battle Ground to Camas. Contact us today at 360-718-7108 or request a free quote online.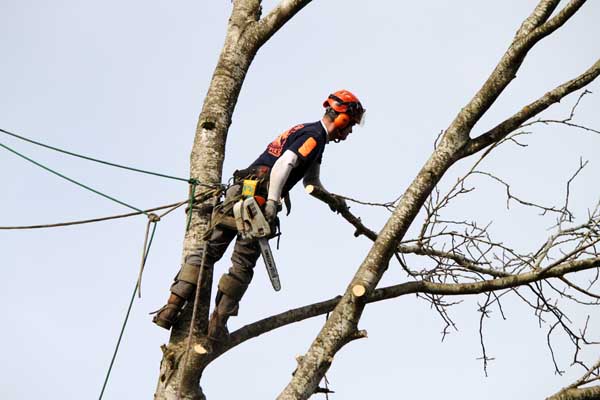 Many Pacific Northwest residents live here because of the beautiful trees, forests, and rivers that surround us. Unfortunately, living in and around natural spaces is hazardous, and even simple trees can endanger the safety of a home or business when they have fallen or are at risk of falling.
Fallen trees and tree limbs are a common occurrence after strong wind storms or during a harsh winter. They can compromise your utilities, damage the structure of your home or building, or ruin your well-laid landscaping. Tree hazards can often be prevented with expert help from an arborist, but sometimes they are simply unavoidable.
6 common signs that trees may fall
Dead limbs that fall in fair weather conditions.
A cavity inside the trunk – this indicates that the tree may be rotting from the inside out.
Leaning due to root damage or last year's heavy weather conditions.
Tight, V-shaped branch growth.
Fungus or missing bark.
Manmade damage.
Hundreds of trees fall every year here in Vancouver Washington – many due to harsh weather and some because of disease or other types of damage. Fortunately, if a tree has fallen on your property, you have resources. The expert team at Cascade Tree Works is available for emergency tree removal, 24/7. We are proud to serve homeowners and business owners throughout Vancouver, Battle Ground, Salmon Creek, Woodland, and LaCenter, WA.
When do I need an emergency tree service?
Cascade Tree Works is your resource for Emergency Tree Removal in the Vancouver Metro Area.
There are times when tree removal is a choice that you can make and schedule in advance. However, other moments require emergency tree removal. Often these circumstances occur when the tree is putting residents in danger or may cause property damage. Most commonly, a tree becomes a hazard due to a storm, because of heavy snow or ice, or because the tree was dead or rotted and should have been removed earlier.
At Cascade Tree Works, we encourage homeowners and property managers to contact us before a tree becomes a hazard. We can send a trained and certified arborist to assess the tree well before a storm and discuss support or tree removal options.
When a tree has fallen on a property, it needs to be removed rapidly to prevent further landscape damage. Additionally, if the tree has toppled due to disease, its removal can help keep surrounding trees healthy and thriving.
The team at Cascade Tree Works is available for emergency fallen tree removal. Just give us a call at 360-718-7108 and we will assist you as soon as possible.
Trees often fall in inconvenient places, blocking walkways or driveways, damaging cars or fences. In some cases, the trunk may still be standing, but a large limb may have broken off and fallen on something important or blocked access to a garage, sidewalk, or front door.
No matter where your tree or branch has fallen, our team can remove it rapidly and help you recover access to your property.
Tree or Branches Endangering Residents
The most worrisome situation is when a tree or tree limb has fallen in a way that endangers residents or building tenants. This may include broken or damaged tree that has not yet fallen to the ground or a tree part or whole tree that is at risk of striking persons or property.
A tree that has fallen onto a home may cause further damage in the form of water intrusion, mold, and more. The first step is to get the tree or branch removed so that the damage can be assessed and repaired.
We are here to remove the dangerous tree or branch immediately – rain or shine. Most commonly a heavy limb or tree falls during inclement weather, but we are native to the Pacific Northwest and understand how to work through stormy days. Our goal is to keep you and your family safe throughout this ordeal.
Cascade Tree Works offers 24/7 emergency tree removal services. Our priority is safety – yours and ours. We have strict safety policies that we follow during every removal project, no matter the weather, to ensure that every resident on a property is safe and that our crew remains safe throughout the project.
If you are looking for reliable, safety-minded tree removal experts that will perform emergency tree cutting service, contact Cascade Tree Works at 360-718-7108.
24/7 Emergency Fallen Tree Removal
Cascade Tree Works is your resource for Emergency Tree Removal in the Vancouver Metro Area.
Emergency removal services for a fallen tree should always be scheduled rapidly to avoid safety risks like utility line breakages, blocking access to vital systems, tripping hazards, property damage, or personal injury.
Storm damaged trees do not always fall right away, often a tree or its parts remain aloft. However, this damage is likely to make the tree a danger. While a fallen or damaged tree may not look like an urgent problem, the situation should be immediately assessed by an ISA Certified Arborist.
If a tree has fallen on your property and you need it removed rapidly, Cascade Tree Works is your emergency tree removal resource. Our team of seasoned professionals has the expertise to handle emergency tree removal in the most complicated of circumstances.
Additionally, we offer 24-hour emergency tree removal services. Our ISA Certified Arborists are experts in assessing the dangers associated with a fallen tree and creating the most rapid and effective tree removal plan possible. Our trucks and equipment are always ready to go so our crew can mobilize in a hurry when you need us the most.
Cascade Tree Works specializes in high-risk tree removal services. If a tree has fallen on your property and you believe it is a safety risk, you can contact us any time of day to get a removal scheduled. Our goal is to provide competent emergency tree removal services to clear away any hazards or safety risks on your property. With years of experience and ISA certification under our belt, we can guarantee a rapid, safe tree removal in any situation.
Contact us today for competent and professional 24-hour high-risk tree removal services.
Emergency Tree Removal Cost
There are many costs associated with cutting down a tree, removing a tree from an area, and fully cleaning up the landscape. Emergency tree removal costs include many factors such as:
– How much space do we have to maneuver?
– Has the fallen tree impacted property, powerlines, or structures?
– Are we removing the entire tree, including the stump?
– What would you like us to do with the fallen tree or branch once it is removed?
– Do we have easy access to the area where the tree has fallen?
With all of these aspects to consider, accurate tree removal estimates require our arborist to visit your property and look at the fallen or damaged tree. In emergency circumstances, we can provide you with a general price range after asking several questions over the phone, then come out to the property with our team and provide a final price.
Our goal is to be fair and honest in every aspect of our work – and that includes giving homeowners in distress fair pricing for tree removal. Contact us today to begin the free estimate process.
We Take Your Safety Seriously
CONTACT OUR EMERGENCY TREE REMOVAL SERVICES 24/7 CALL US AT 360-718-7108
We offer emergency tree removal in Vancouver, Washington and surrounding cities including:
Battle Ground | Salmon Creek | Woodland | Camas | LaCenter